All That Glitters
Hatcher Pass is one of Alaska's hidden gems. Less than a half hour from Palmer and Wasilla, this area boasts spectacular views, incredible outdoor recreation opportunities and backcountry adventures. You can get to Hatcher Pass via Palmer and Wasilla Fishhook roads, which turn into Hatcher Pass Road. Beginning around the Fourth of July, Hatcher Pass Road opens to Willow, which is a rustic and rugged route that is beautiful. In the fall, it is one of the best places in Alaska to pick berries. 
Alaska Grown opportunities
Before heading up to Hatcher Pass, stop in at Turkey Red in Palmer for lunch featuring Alaska Grown produce. Or stop by Friday Flings in Palmer or the Wasilla Farmer's Market (Wednesdays) and use produce from local farms to make yourself a picnic lunch you can enjoy from Hatcher Pass.
Golden History
Robert Lee Hatcher first found gold in the Talkeetna Mountains in 1906, and staked the first claim, with many others following suite. But lode mining was expensive, and ultimately, one company bought the 83 claims and established Independence Mine. It flourished, and was one of the country's largest gold mines. But with the U.S. entering into World War II, the government deemed it unnecessary to the war efforts, and production was halted. Following the end of World War II, the mine started back up but never again reached its level of production, closing for good in 1951. When visiting Independence Mine State Historical Park, you see many of the buildings, left untouched, as well as some of the equipment. Many of the buildings have been restored, and the walking tour is well worth your time. Make your first stop the visitor center, and prepare for a golden adventure.
Stay Another Day
With panoramic views, endless hiking trails and plenty of activities, make your Hatcher Pass adventure two days. You can stay at Hatcher Pass Lodge right beside Independence Mine, or stay at Hatcher Pass B&B, which is located at the base of Hatcher Pass. Both provide quick access to the area's activities.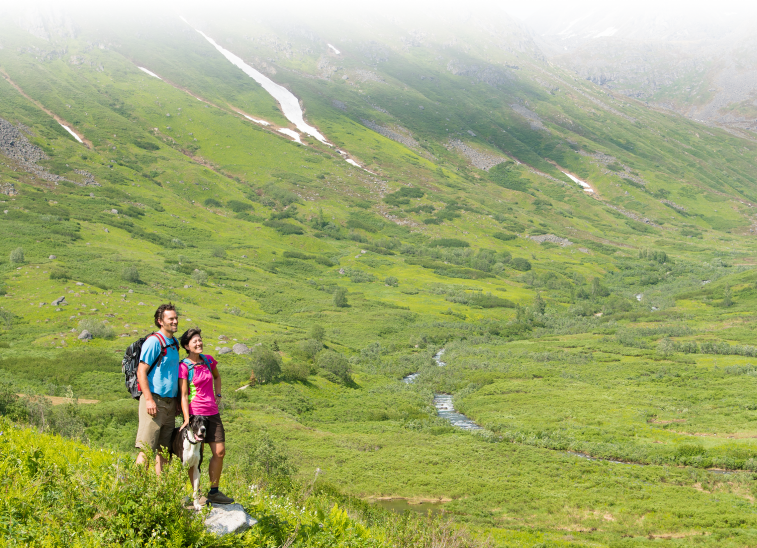 Featured hike: Reed Lakes Trail
Reed Lakes Trail is a 9-mile trail that can be accessed by taking the dirt road just past where Hatcher Pass Road switches back and gains elevation. The first few miles of the trail provide great views and is fairly level and easy. A few miles in however, the hike intensifies in elevation gain and traction. Upper and Lower Reed lakes are the ending point on the trail. Many people backpack in and bring a tent, opting to hike out after spending the night around the lake in a camping spot.