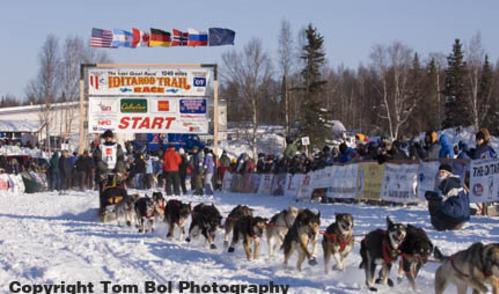 An Iditarod team leaves the starting chute in Willow. 
This Sunday, the Iditarod Trail Sled Dog Race begins in Willow, at 2 p.m. For the mushers, this is the start of an amazing journey across the most rugged place on Earth. For spectators, it's a chance to see their Iditarod heroes up close and personal.
Years ago, in a "former" life, I was a sportswriter at the Mat-Su Valley Frontiersman, based in Wasilla. I had the opportunity to cover the Last Great Race, and one year in particular was special for me, in ways that go beyond being a part of a unique sports event.
My dad and I checked out the starting chute in Willow, and saw the teams depart, which was fun, but just didn't feel like the "real" race. That was the start of a grand adventure that I won't soon forget, however. From Willow, we jumped on our snowmachines (that's snowmobiles, if you are reading in the Lower 48!) and took to the trail. We rode across rivers, trails and the backcountry, soaking up the early March sun and the amazing views that surrounded us. Along the way, we weren't alone - makeshift Iditarod tailgate parties popped up along the way, as Alaskans celebrated with bonfires and barbecues. In the Lower 48, they have college football for tailgating. In Alaska, we have the Iditarod.
We'd stop every now and then for a sandwich, or to see a musher making their way up the trail, albeit with a lot less horsepower than we had. Away from the starting line, you see the race in a whole new light. It really is a triumph against the elements, and a testament to teamwork among musher and their 16 canine athletes.
We finally arrived in Skwentna, one of the first checkpoints, and were amazed at the hospitality of Joe and Norma Delia, true Iditarod legends. They operated the checkpoint, and welcome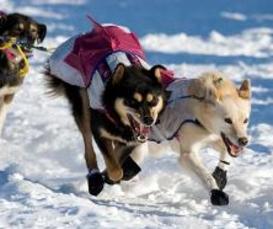 d us in with open arms. As the mushers started arriving, the place bustled with activity. The Delias served up dinner to anyone who was there - it didn't matter if you were an Iditarod legend passing through, or a young cub reporter from the hometown newspaper. It was such a personal experience, and one I'm happy to have had. My dad and I made our way outside to where the mushers were bedding down their dogs, and I respectfully kept my distance and asked if it was okay to snap a few photos. The mushers seemed almost incredulous that I didn't get closer. One musher in particular - Shawn Sidelinger - told me and my dad to sit down. We ended up chatting with him for almost a half hour. He offered us beef jerky and other snacks out of his sled while his dogs ate their dinner. It seemed a bit surreal to me - I grew up following the race, but always from afar and not 'in the moment.' Here, not only was I covering the race, but having snacks with them. I have no idea what Shawn Sidelinger is up to now, if he even races or where he lives, but I can tell you he made an impression on me in that half hour. He showed me what the Iditarod really is about - the stories about real people, away from the front of the pack. He didn't harbor visions of winning the race, but he had a grand sense of adventure and was living his dream being a part of the Iditarod. And in a way, so was I.
Night fell as mushers made their way in and out of the checkpoint. My dad and I found a corner of the checkpoint and climbed into sleeping bags, right next to former Iditarod champions and rookies just a few miles into their first race. This being more years ago than I care to mention, digital photography was just crazy talk, so we fired up the snowmachines at 3 a.m. for a very cold, fast ride back to the real world. After developing the film and looking at the images, I realized there was no way for those photos to do justice to the 48 hours I just experienced. In a way, you can only get that feeling by doing it, not by looking at pictures.
Later in the race, I flew to McGrath for a day to cover the mushers coming in there, and then ultimately to Nome, where watching the finishers come in is an amazing experience. But for me, on a personal level, nothing could top the experience of sharing the Iditarod with my father, making new friends and grand memories along the trail.
Make your Iditarod memories this weekend. It's a great event, one that is uniquely Alaskan, and it's very personal - you can meet your favorite mushers while they get ready to head out on a 1,100-mile trek through Alaska. The restart begins at 2 p.m. on Willow Lake, but plan on getting there plenty early to avoid parking problems. One option is to park at Deshka Landing for a small fee.