This weekend, two quintessential Alaska events take place for a good cause - the Wilderness Woman contest and the Talkeetna Bachelor Society Auction. They are definitely "Only in Alaska" events, and both kick off Talkeetna Winterfest, which runs throughout December.
The Wilderness Woman contest starts at 1 p.m. on Main Street, with single women vying for the coveted title. They'll lug five-gallon buckets of water, shoot a rifle, chop wood, ride a snowmobile and other events to decide who is really the top woman of the wilderness for 2012 in this funny - yet competitive - event.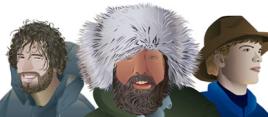 Then, at 7 p.m., the bachelors of Talkeetna get auctioned off. Single women bid on a "date" with the eligible men during the ball at the Sheldon Community Arts Hangar. The event raises money for local Talkeetna charities, and is one of the social highlights of the calendar each year. For more information, including the charities the event supports, visit www.talkeetnabachelors.com. Tickets are $20 for the ball, which the Wilderness Woman contest is free to watch. It's a must-see event, and you won't be disappointed with the hospitality Talkeetna extends during the first weekend of Winterfest.
Better than just going, go in style! The Alaska Railroad offers transportation to Talkeetna from Anchorage north on Saturday, south on Sunday. The bachelors will even meet the women at the train depot to show them a good time! Visit www.akrr.com for more information about train tickets.