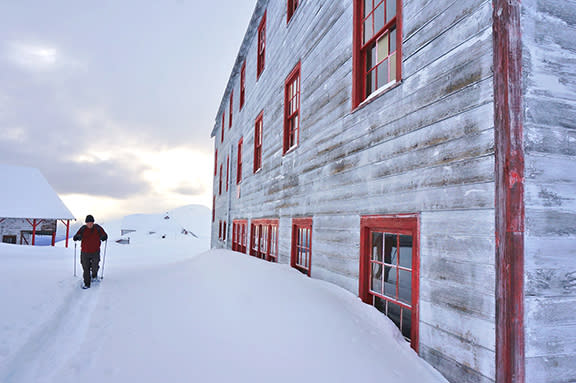 A snowshoer makes his way around an old bunkhouse at Independence Mine. (Courtesy Lifetime Adventures)
As rain and warmer temperatures battered the lower Matanuska Valley Wednesday, the conditions were perfect in Hatcher Pass for a backcountry expedition that few take advantage of, yet is just a 20-minute drive from Wasilla. Guide Dan McDonough of Lifetime Adventures met me and travel writer Juno Kim of Runaway Juno in the parking lot and sized us up with snowshoes and poles, and within minutes, we were off for an adventure that neither Juno nor I will forget anytime soon.
We made our way up some of the hills and ultimately to Independence Mine, for a visit there unlike any I've ever had. I find myself up at the mine several times a summer, but this was the first time I've done it in winter, on snowshoes. With snow up to the roofs of some of the buildings, it was a brand new experience at a very familiar place. We made our way around several of the buildings, stopping to take pictures, sip hot cocoa and enjoy some friendly conversation.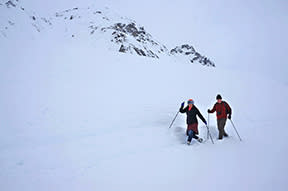 The beauty of the area is obvious, the serenity maybe not so much. But make no mistake - the setting was absolutely serene. Between conversation, you could almost hear yourself think because it was so quiet and peaceful. Blankets of snow surround you, and you may spend an hour before seeing another snowshoer or skier.
My only regret is that I didn't do it sooner. It was an amazing afternoon in one of the most gorgeous places in Alaska, experiencing it in a whole new way. I encourage people to take an afternoon, grab a pair of snowshoes or skis and set out for Hatcher Pass - you won't be disappointed, and you'll come back with a lot of memories and a SD card full of great photos.