One of the fun things about working in tourism marketing is the chance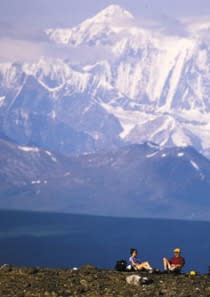 to meet and talk with people who are so excited about visiting Alaska. Sometimes, however, their knowledge of Alaska isn't quite on par with their excitement level.
I often get asked crazy questions about Alaska, and some make me chuckle. Here are a few I've heard recently that gave me a good laugh. 
"How is the exchange rate with the dollar right now?"
Actually, it's doing pretty darn good. We're on a one-to-one ratio with the US Dollar right now, and that's held very steady for a long time now. It's so steady, in fact, that you don't even have to exchange your US Dollars when you travel to Alaska!
"I see Homer and Denali are just a few inches apart on the map. So I can do that drive in the morning?"
Sure! You can definitely finish that drive in the morning hours. Just make sure you leave around 1 a.m. Alaska is big - very big. If you cut Alaska in half and made them both states, Texas would become the third largest state. On an Alaska map, "a few inches" could be an overnight excursion!
Speaking of maps ...
"Why is Alaska so cold? It's right next to Hawaii on the map."
Umm, yeah. That's an inset.
"We are flying into Anchorage from Los Angeles this summer, but we haven't renewed our passports yet. How strict are the customs and immigration policies?"
You should have no problem with customs and immigration upon your arrival from Los Angeles. In fact, for
flights "from the U.S." you can simply deplane, pick up your bags and go! What a great "country," no?
"How do you sleep in the summer?"
Usually in a bed, or sometimes in a sleeping bag when I'm enjoying the great outdoors. Oh, you mean with all the daylight hours Alaska has in the summer? Most hotels have blackout shades for visitors unaccustomed to 20 hours of daylight in June, but the simple fact is that for us Alaskans, it doesn't impact us all that much when we lay down - we're too tired from enjoying all that Alaska has to offer in the summer, from rafting and fishing to flightseeing and hiking.
The best way to answer your questions and curiosities is simple - come on up to Alaska, and experience it
for yourself. It's not as intimidating as one would think to plan a trip. For sample itineraries, visit www.alaskavisit.com/visitors/itineraries And don't worry about asking a silly question - as you can tell, many Alaskans have been asked just about anything you can imagine. We know we are a different
kind of destination, so even though they seem silly, no question is a bad question. We're proud of what we have here, and we welcome the opportunity to show off our state to visitors!