Palmer comes alive with holiday cheer this weekend, as Colony Christmas takes over in a Norman Rockwell-esque celebration.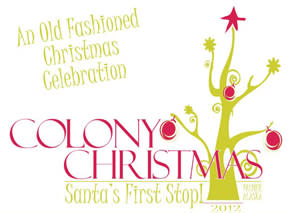 Colony Christmas - the second weekend each December - is filled with family-friendly events, gatherings and good fun.
The Greater Palmer Chamber of Commerce puts on a fantastic event that will definitely put you in the holiday spirit. The fun gets started on Friday with arts and craft fairs around town, and the annual holiday ball at Raven Hall on the Alaska State Fairgrounds. On Saturday, there is a full slate of activities, from kids games, a festival of trees, ice sculptures, sleigh rides and more. At 5 p.m. Saturday, grab a seat on the side of the road as a parade of lights makes it way through town. Then, cap your fun day off with a fireworks display at 6:30 p.m.
While the events are fun and festive, perhaps the best part of Colony Christmas is the small-town feeling of camaraderie that envelopes the weekend. It's impossible to leave Colony Christmas without a little more joy in the your heart, and pride about where you live.
For a complete schedule of events for this year's Colony Christmas celebration, visit www.palmerchamber.org. We'll see you in downtown Palmer!