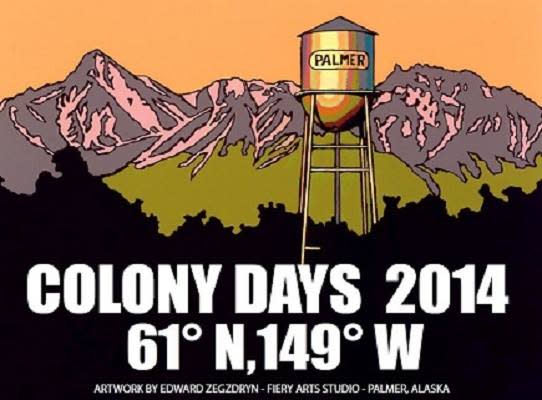 Today, one of the state's best small-town celebrations kicks off, as Colony Days takes over downtown Palmer for the weekend. While many festivals promise "something for everyone," Colony Days truly delivers on that promise, with a host of events catering to those young and old.
Colony Days is a celebration of Palmer's history, as it commemorates the Matanuska Colonists who came to the Palmer area nearly 80 years ago, settling in the area and establishing its agricultural roots. And while many of the families who relocated from the Midwest ultimately left Alaska, there are still several Colony families remaining in Palmer, generations after those first folks arrived.
Today, Colony Days is a three-day celebration of fun. The Friday Flings open air market and food court takes place throughout Friday, and the kids games run from 11 a.m. to 6 p.m. in the downtown festival area. The kids will have a great time all weekend with face painting, games and more. At 5:30 p.m. tonight, the "head honchos" of local utilities and organizations square off in a hilarious bed race through downtown Palmer.
On Saturday, fun continues with several events, highlighted by the parade at 11 a.m. On Sunday, a 5K race starts at 11 a.m. as well.
For a complete schedule of events, visit www.palmerchamber.org. Suffice to say, you can spend the entire weekend going from event to event and not do the same thing twice. Head on over to Palmer for a weekend of fun, celebration and good times.