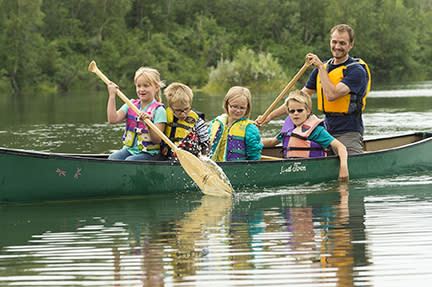 This weekend is a special one for all Alaskans, as we celebrate the summer solstice and all that daylight that makes Alaska such a unique place. But it's also Father's Day this Sunday, a very special day as well.
I'm 40 now, bald, and a dad to a teenager. Those are three things I couldn't even fathom 20 years ago, but it's funny how life takes shape. One of my favorite things is being outdoors in the Valley - rafting Willow Creek or Little Willow Creek, hanging out in Talkeetna or visiting Matanuska Glacier, not to mention places like Hatcher Pass. This didn't just happen accidentally, however. And it's another reason why Father's Day is special.
I remember when I was a small child growing up in Wasilla - I'm not that old, I can still remember it - and spending time in the outdoors with my father. Waking up at 4 a.m. to go fishing on the Little Susitna River didn't seem like a lot of fun when the alarm went off, but I always had a great time being on the water with him and catching fish. When summer turned to winter, we'd spend the days riding snowmachines - that's "snowmobiles" for those in the Lower 48 - around the Valley. Some Sundays we'd watch football all day and then snowmachine from our house to Big Lake for a burger, then come home. I still remember those trips vividly, and now, years later, I realize that my love of the outdoors was born out of those times.
The gift of the outdoors is one that is priceless, and can be passed from generation to generation. Now, I'm out fishing quite a bit, but my favorite trip of the year is our annual family float trip down Willow Creek. The guys head out on Friday night, float the creek and set up the entire camp. The next morning, we pick up "the girls" for a float trip to the camp. We play the "Caveman Olympics" each year - who can skip a rock across the creek the most times, who can toss a rock at a target, and more - with the title hotly contested. By the end of the weekend, we're all ready to get home and shower and clean up, but I wouldn't trade those few days for anything.
You don't have to buy material things for us dads on Father's Day (unless my wife reads this and has plans on buying a boat or a 4-wheeler for me) for it to be special. Memories made in the great outdoors of Alaska with our families are the gifts many of us will cherish the most.