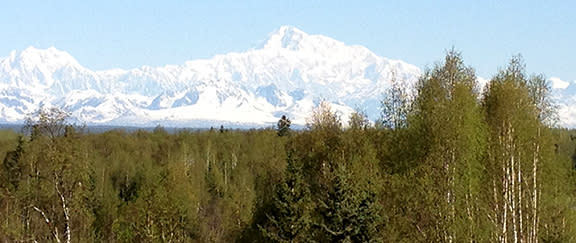 Mount McKinley shows off on Tuesday, May 28. Photo taken from the observation pullout in Talkeetna.
Standing at 20,320 feet, you'd expect Mount McKinley to be visible every time you drive up the Parks Highway. But you'd be wrong - and that's why the mountain's beauty amazes even the locals who get to see it regularly. The enormous mountain, the largest in North America, is a spectacle that never gets old, no matter if you are seeing it for the first time on your vacation to Alaska, or for the 100th time as a local.
Is it Mount McKinley, or Denali? That all depends on who you ask I guess. When I talk to out-of-state residents, I refer to her as Mount McKinley. But talk to any Alaskan, and that mountain goes by "Denali." Of course, there's the annual "let's officially rename the mountain Denali" campaign in Congress, but to be honest, it doesn't really matter to me. She's "Denali" to us Alaskans, and always will be, despite what a group of senators half a globe away decide.
The mountain is the crown jewel of the Alaska Range, and beckons visitors from around the world. World-class climbers show up in the spring to try to summit the mountain (100 years ago this summer was the first time that happened!), and tourists flock to the area for flightseeing trips that often land on glaciers high in the range. The experiences - both the wild and the tame - are often cited as a visitors most memorable while in Alaska.
There are many ways you can enjoy this natural marvel without having to attempt to climb it. Flightseeing is a great way to see it up close and personal. But if small planes aren't your thing, you can always go hiking in Denali State Park (Kesugi Ridge is a great hike with a view), take a gentle and scenic float trip or even just a day drive to Talkeetna. There may not be better views of the mountain than from the decks of the Talkeetna Alaskan Lodge or the Princess McKinley Wilderness Lodge either.
The mountain has a personality and a beauty all her own. Alaskans never take it for granted when they get the opportunity to see her tower above her sister peaks in the Alaska Range, and neither should tourists. Feel free to blow up that memory card in your digital camera taking pictures, and most importantly, make it a point to enjoy your Denali - uh, I mean Mount McKinley - experience!