Funnel cakes, caramel apples, amusement park rides and plenty of fun - the Alaska State Fair st​arts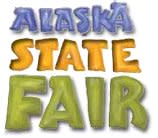 tomorrow, and Alaskans couldn't be happier! The fair is one of Alaska's signature events, and brings tens of thousands of visitors to Palmer for 11 days of family-friendly activities.
The Alaska State Fair runs through Labor Day each year. Whether it's giant vegetables, livestock exhibits, contests, concerts or just some good old shopping and eating, the fair has something for everyone. This year's lineup of concerts is first rate too!
Make your plans today to visit the fair - there's a number of ways to do it. If you are coming from Anchorage, let the Alaska Railroad bring you out - they have great deals on special fair trains that drop you off right at the entrance and then take you back to town. Or, take advantage of one of the fair's many ways to save on admission.
While we love going over to the fair every day, there is definitely a must-see - the giant cabbage weigh-off is like the Super Bowl for Alaska growers. It's on the last Friday of the fair, and it is a spectacle of 100- to 135-pound cabbages on display. Don't miss the pumpkin weigh-off too - 1,000-pounders routinely get weighed in. That's a big jack-o-lantern!
Check out www.alaskastatefair.org for daily schedules, ways to save and more. And make sure you say "hi" on the fairgrounds - we'll be out there enjoying everything the fair has to offer throughout the 11 days of fun!