The only thing hotter than the weather in the Mat-Su Valley right now is the fishing.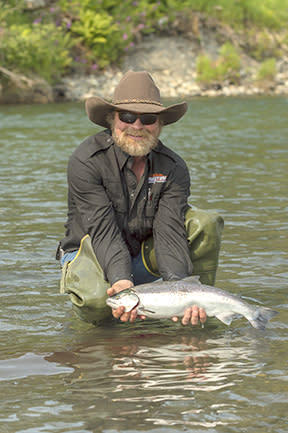 The beginning of August is a time when most Alaskans start to see the end of the summer, but not this year. With temperatures in the high 70s and low 80s, we've been sweating. A great way to cool off is to hit the water in search of salmon, and the Mat-Su Valley has plenty of options.
The Parks Highway is a perfect place for anglers looking to catch a silver salmon. With strong runs of pinks and chums in the water, the action will be consistent, even for those young anglers who may not have the attention span of their parents. With several creeks crossing the highway, access isn't an issue. For example, Willow Creek State Recreation Area is easy to drive to, and has a nice walking trail down to the creek. Other Parks Highway streams that are popular fisheries include Little Willow Creek, Caswell Creek, Goose Creek and Montana Creek. All of them cross the Parks Highway between Willow and Talkeetna, and offer parking areas.
Hardcore anglers will head to the Little Susitna River or the Dehska River, but those two fisheries are best served if you have a boat. If you are new to fishing or don't have all the gear you need, your best bet is hiring one of the many fishing guides in the Valley - they fish all of the above mentioned rivers, plus the Talkeetna River. They are experts on finding fish, and it can be quite a bit less expensive to go with a knowledgeable guide rather than buy all your equipment if you don't already have it.
Grab a pole and head out for salmon this weekend, but don't forget about the many lakes and creeks that have unbelievable trout fishing. The Mat-Su Valley really is an angler's paradise.