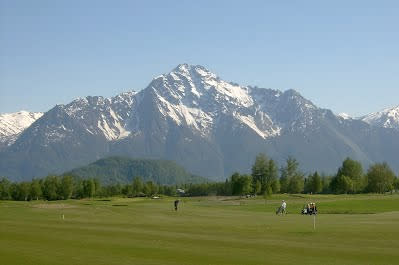 The views are spectacular from the fairways at Palmer Golf Course.
After grabbing my golf clubs last weekend and heading over to the golf course, I think I may have found a new tour offering - "The most frustrating sightseeing tour in the Mat-Su Valley."
Tiger Woods I'm not, but it's impossible to not enjoy your day when golfing in the Mat-Su Valley - the views around you make up for the fact you spent four hours hunting for your ball in the woods. There is no shortage of options, either, as four courses fill the core area of the Valley with amazing views and fantastic courses.
Palmer Golf Course has some of the best views you'll encounter in Alaska, let alone on a golf course. With sweeping vistas of the Matanuska River, Knik Glacier and Pioneer Peak, you'll be amazed at your surroundings and almost forget about the worm-burner you shanked into the woods 10 feet off the tee box. The golf course boasts 7,300 yards of scenic views. The guys who know what they are doing on the links put par at 72, but if I crack 100 it's a great day.
Settlers Bay Golf Course is located about 10 miles outside of Wasilla and is just as breathtaking. The manicured greens and fairways invite golfers from around Alaska, and with spectacular views of Cook Inlet and the surrounding mountains, there's no better way to enjoy a hot summer day. The nearly 6,000 yard course plays at 71 par. A nice addition is the Albatross bar and grill in the clubhouse - and of course, they serve some Alaska beers to finish your round right. The post-round beer was really the only thing that I did right my whole afternoon.
Fishhook Golf Course is a nine-hole, 36-par course located just outside of Palmer. This wide-open course is great for those just starting out, and for those looking to hone their game. Be ready for some gusting wind!
Sleepy Hollow Golf Course is more my speed - short and quick. It's a 9-hole, par-3 course that is quaint and very fun to play. Located seven miles north of Wasilla, the course has a very "down home" feel. It's run by a family, and sometimes, you'll have to pay using the honor system. This is the perfect place to practice up on your short game.
When getting ready for a round of golf in the Valley, my clubs are the last thing I pack. First to go into the truck is a big can of mosquito repellent - rumor is, we have those here, and they are the size of small birds this summer. Then, a raincoat gets packed, even if it is 75 degrees and nary a cloud to be spotted. In Alaska, the weather changes in about 4.7 seconds it seems, so being prepared is important. After the clubs get packed, I know I can leave one thing at home - my humility, because I'm in for a long afternoon!