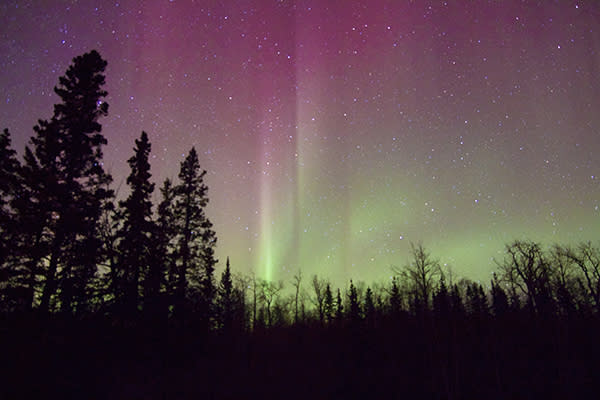 The northern lights dance above the tree line. The lights have been spectacular this winter. 
The Mat-Su Valley unofficially welcomed winter to the party earlier this week, as the first substantial snowfall whitened the entire area, and the thermometers are showing that it's going to stick around. Winter is a great time in Alaska in general, and the Mat-Su specifically. You don't have to go into hibernation to enjoy the winter. Here's five tips to get out and enjoy the season.
1. Look for the lights. The northern lights have been amazing lately, and the forecast is for great shows throughout the winter. Get away from the populated areas to avoid light pollution. Make sure to dress warm, and find the darkest spots available. Bring a Thermos of hot chocolate and be amazed by nature's display in the sky.
2. Grab your skis. Whether you like downhill or Nordic skiing, Hatcher Pass is the place to be this winter. At the base, the Government Peak Recreation Area has 6 kilometers of world-class Nordic trails that are groomed regularly. The chalet is also a great place to warm up once you finish your loops. If downhill is more your speed, grab a team of buddies and continue up to the top of the pass - you'll have to have someone meet you at the bottom in a vehicle after your run, but the backcountry powder is worth it.
3. Hit an event. The Valley is filled with awesome events all winter - Colony Christmas in Palmer, Talkeetna Winterfest, the Willow Winter Carnival, Big Lake Winter Fest and the Iditarod all take place in the winter months. Make your plans now.
4. Rev your engine. The Mat-Su Valley is a snowmobiler's paradise, in every corner of the Borough. The Eureka and Lake Louise areas are ideal along the Glenn Highway National Scenic Byway, and the Petersville area is one of the state's most popular areas. Many of the trails are groomed, such as in Big Lake. Gas up your machine, or rent one and enjoy the weekend.
5. Stay and play. Many lodges and bed and breakfasts are open throughout the winter months and offer a cozy getaway. Spend a weekend exploring the Mat-Su Valley this winter, and get warm by the fire of a quaint lodge, reflecting on your Yahoo, Mat-Su adventure.