This weekend, we'll have a booth at the Oxygen and Octane show at the Dena'ina Center in Anchorage. It's a great way to get ready for the winter, as all of the new snowmachines will be there, great deals on outdoor equipment like skis and snowboards can be had, and a wealth of information is available about how to get out and enjoy the winter in Alaska.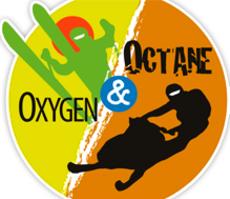 At our booth, we'll have trail maps from around the Valley, as well as information about lodges, winter tours and more. Winter isn't a time to hibernate like the bears, it's a time to get out and enjoy what makes Alaska unique. Make plans now to spend a weekend snowmachining in Petersville and staying at a local lodge; grab a sled and head up to Hatcher Pass for an afternoon of extreme fun; get your cross-country skis ready for an extended weekend in Lake Louise or Talkeetna.
There's a lot to see and do during the winter months. If you aren't sure what to do, we have the answer - start your adventure this weekend at the Oxygen and Octane show, stop by our booth and ask one of us why "fun is at its peak in the Valley."