We've been having an unusually awesome spring, and that paved the way to get the raft out earlier than most other springs I can remember. Last weekend, we loaded it up and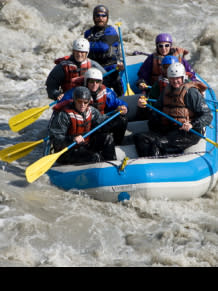 headed to Willow Creek to get our first float trip of the season in, and we surely weren't disappointed. With spectacular views of Mount McKinley leading the way to Willow, excitement built before the raft even hit the water.
Float trips are a great way to get out and enjoy the scenic beauty of the Mat-Su Valley. You don't have to be a Class IV rafter to enjoy a leisurely rafting trip on one of the many creeks and rivers in the Valley. You'll likely see some wildlife - last weekend, we saw a couple moose, as well as a handful of beavers and otters. Not only do you need your sense of adventure, but also your camera.
With this being Boating Safety Week, it's a good time to remind folks to make sure the waterway they choose is fit for their abilities, however. Always wear a life jacket!
My personal favorites for do-it-yourselfers are some of the Parks Highway streams for mellow float trips. Willow Creek, Little Willow Creek and even Sheep Creek are excellent choices for families looking for an afternoon of fun. They offer easy put-ins near the highway, and a raft takeout at Willow Creek State Recreation Area. Farther north on the Parks Highway, Talkeetna offers plenty of rafting opportunities.
The Glenn Highway National Scenic Byway leads you to Matanuska Glacier, which helps feed the Matanuska River. This river has sections that can be a bit hairy for inexperienced rafters, so make sure you know where you are going before you hop in the raft.
Of course, you don't have to own your own raft to enjoy this summertime experience. There are many great guides available in the Mat-Su Valley. By going with a guide, you obviously don't need your own equipment, but more importantly, you'll be going with an expert who knows the rivers' every nook and cranny, so you'll always be in a safe environment. For a list of boat excursions available, check out https://www.alaskavisit.com/visitors/the-great-outdoors/boating/