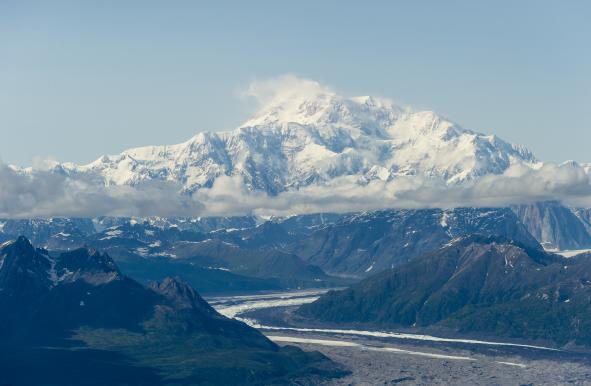 This view of Mount McKinley is one of the many things for which we're thankful.
Each morning on my drive to work, I get the opportunity to see the Chugach Mountains, with Pioneer Peak standing tall over the Matanuska Valley. In the summer, I get to go hiking, rafting and fishing in one of the most beautiful places in the world. All year long, views of Denali frame my drive north on the Parks Highway. These are just a few of the things that make every day in Alaska something special.
I'm very thankful I live in a place most people only dream of visiting, and once they do, they start dreaming of coming back. It's their "trip of a lifetime," but for me, it's another day at home. I never take for granted the scenery, the people or the activities that make up the area in which I live, and I hope others don't as well. I appreciate every day in Alaska, because there's simply no other place like it in the world.
I'm also thankful that I get to share this awesome place with others on a regular basis. It's always fun to show off your area to visiting friends or relatives, but working in the tourism industry, I get to do it every day. I love striking up a conversation with a random visitor in Talkeetna during the summer, just to see how they are enjoying their vacation. It never fails - their eyes light up as they talk about their flightseeing trip around Mount McKinley, or their jet boat ride or the salmon they caught on a fishing charter. It makes me feel even better about where I live when I see the happiness and excitement it brings to other people experiencing it for the first time.
Have a very safe and happy Thanksgiving, and don't forget to be thankful for everything you have in life, no matter how big or small those things may seem.