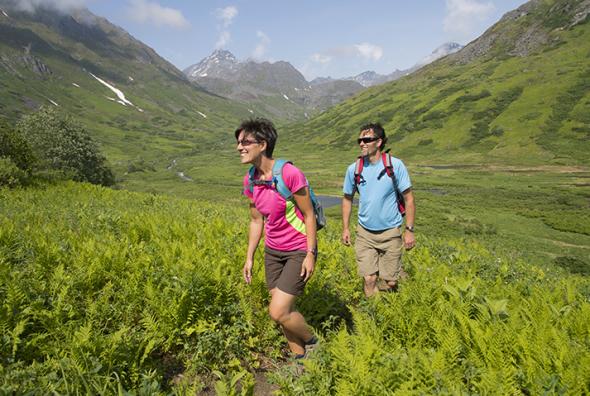 Reed Lakes is one of the most scenic hikes you'll encounter in the Mat-Su Valley.
It's no secret that the Mat-Su Valley, like all of Alaska, has been enjoying one of the most memorable summers. Temperatures in the high 70s to low 80s and cloudless days have given everyone the opportunity to take advantage of the great outdoors nearly every weekend. One of the best ways to experience the backcountry of Alaska is to grab your hiking boots and a backpack and visit Hatcher Pass, where trails shoot off in every direction, providing countless miles of breathtaking views.
One of our favorites is the Reed Lakes trail, which starts just before you reach Independence Mine. The views of the Susitna Valley are amazing, and you don't have to be "Super Hiker" to enjoy this trail. The first few miles of the trail are gentle and easily accessible, before you start climbing into the more difficult stages. For someone looking to spend a few hours enjoying the great outdoors, you can't go wrong with this one!
Closer to the core area, along the Palmer-Wasilla Highway, is the Crevasse-Moraine system of loops. You can easily make these "lunch hour hikes." Don't forget about Lazy Mountain or the Butte, both of wh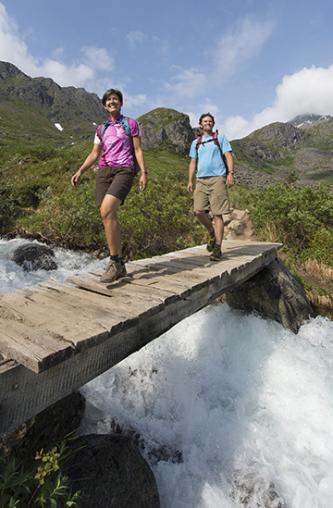 ich offer gorgeous looks at the Knik River Valley from their peaks. Farther north, trails abound in the Talkeetna and Denali State Park regions of the Valley. Kesugi Ridge in Denali State Park is a challenging hike, but the view of Denali is well worth the effort!
Hiking can be as easy or as strenuous as you want it to be in the Mat-Su Valley. There really are trails for everyone - whether you have an hour or a week, chances are you'll find a trail to your liking. The Mat-Su Borough has a host of trail maps available in PDF format at www.alaskavisit.com/trails and many are open in the winter as well. With more than 2,000 miles of trails, the Mat-Su Valley is the perfect place for you to get out and enjoy a long walk in the wilderness.
Before you go, however, take a minute to make sure you are prepared. First, don't forget bug spray! Those little buggers have a pesky way of making you go crazy, and there's a reason Alaskans joke that the mosquito is the state bird. Second, make sure you bring lots of water, as well as some good hiking gear. If you are headed out on a longer expedition, make sure you have a buddy, and that people know where you are going. Third, remember that this is Alaska, and you'll potentially be sharing the trail with some critters - perhaps a bear - and you should be aware of your surroundings at all times. And lastly, make sure you bring your sense of adventure!
Alaskans are very proud of the amazing outdoor recreation opportunities, so when you are enjoying your time there, please remember to pick up your trash and leave the area as you found it. That way, others will be able to enjoy the same experience as you, and it will ensure the beauty of the area for years to come.
Have fun!