Next Thursday, the unofficial "last blast of summer" begins, as the Alaska State Fair takes over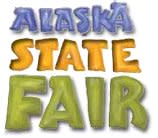 Palmer for 11 days of fun, concerts, food and games. Lasting memories are made every August at the fair.
The Alaska State Fair is Alaska's largest event, and each year Alaskans look forward to their funnel cakes, elephant ears, cream puffs, turkey legs and other "fair food." Once you get the grease, barbecue sauce and other fixings off your fingers, you have countless opportunities to enjoy the fair, from riding the rides to visiting the many attractions that line the fairgrounds.
Don't forget to head over to the Ag Pavilion on Tuesday, Aug. 26 and Friday, Aug. 29 - you'll see some vegetables that are just about unbelievable! The pumpkin weigh-off takes place at 2 p.m. Tuesday, but the real stars of the show arrive just before 7 p.m. on Friday night - the fabled giant cabbages! Growers keep their pumpkins closely guarded and growing right up until weigh-off time. They quickly harvest the cabbages, load them up on a trailer and get them to the weigh-off as fast as possible, so they don't lose any weight. They weigh in cabbages well over 100 pounds, which is truly a sight to behold!
Every night, the fair also features top musical acts, ranging from Michael W. Smith to the All-American Rejects and Flo Rida. It's also worth your time to walk through the many exhibit halls to see the entries from locals - everything from elaborate quilts to flowers to amazing photography is on display.
The fair begins next Thursday (Aug. 21) and runs through Labor Day. Visit www.alaskastatefair.org for ways to save on admission, daily calendars and much more information. We'll see you in Palmer at the Alaska State Fair!