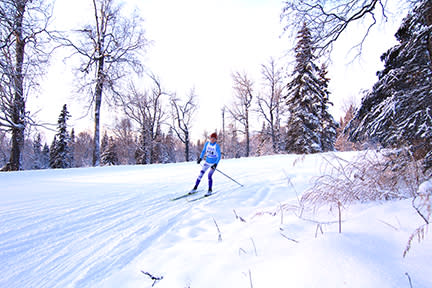 The new trail system at Government Peak is a great way to get out and enjoy the outdoors this winter, with up to 10 kilometers of groomed trails suitable for skiers of all abilities. The trail system was designed by former Olympian Bill Spencer.
The Mat-SuBorough, along with several community groups including the Mat-Su Ski Club (http://www.matsuski.org/), grooms the trails regularly. It's a popular destination for Nordic skiers from around Southcentral Alaska, and routinely local high school and college teams use the area for training.
This year, the Mat-Su Ski Club is hosting "Learn to Ski" classes for adults at Government Peak. This program allows people who may not have skied before learn about the sport and get familiar with what it takes. It's a great opportunity to learn from professional coaches.
On Mondays and Wednesdays from noon to 1:30 p.m. classic-style skating will be taught, while on Tuesdays and Thursdays during the same times skate-style skiing will be the focus. There's also opportunities to participate on Saturdays from 10 a.m. to 11:15 a.m. weekly, through Feb. 28.
The costs are very reasonable - $12 if you just show up for a single lesson, or $50 for a 5-session punch card. A 10-session punch card is $90, and for $150, you can have unlimited visits. All of the fees go to support the Mat-Su Ski Club. For more information, interested people can visit the club's Web site or call 376-2169.
This winter head to Hatcher Pass - you won't be disappointed!