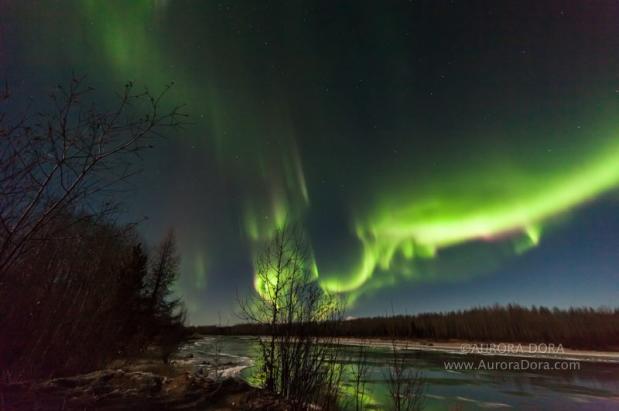 Photo courtesy of Dora Miller (www.auroradora.com, www.facebook.com/capturedcontrast)
In Alaska, the winters can get long, and for many of us, it's not the cold and the snow that seems to drag on, it's the darkness. That's why when the northern lights come out and dance their magical steps across the dark sky, it blows up Facebook. To me, a great display of the northern lights is just like Denali in a sense - they never get old, and I'll never live here long enough that I'll take those views for granted. There is something mysterious about ribbons of color wafting across the skyline that is fascinating to me.
So far this fall, we've had some great aurora displays in the skies above the Mat-Su Valley, with exceptional shots taken by local photographers in the Hatcher Pass and Denali State Park areas. The key to great aurora viewing experiences is to simply get away from town and the light pollution that comes with it. Photographing them is a complex effort, but you can find a few tips here that are helpful: http://www.adn.com/article/explainer-how-photograph-northern-lights
The other day, on my way to work, I glanced over my shoulder toward the Hatcher Pass area and saw the northern lights. They weren't the spectacular reds and greens that you often see in the picture, but rather "sheets" of white. Still, it's another reminder why I love Alaska, and why this place is so special.
This weekend is supposed to be excellent for viewing the northern lights, so grab your warm weather gear, your digital camera and head out to capture them. A great resource for those wanting to see the northern lights is http://www.gi.alaska.edu/AuroraForecast, which is an online forecast for aurora activity. You can check there regularly to see where the northern lights are expected, and how vibrant they'll be. Like the weather, any forecast is nothing more than an educated guess, but it's a great resource nonetheless.