This weekend, brewers from around the state will convene on the Alaska State Fairgrounds for the Mighty Matanuska Brewfest. The event is one of several that showcases the ever-growing craft brewing scene in Alaska, which now counts 22 breweries from Juneau to Fairbanks.
Alaska has garnered national media attention for its award-winning brewery scene, and beer tours have increased in popularity. The Palmer event has also grown exponentially in the nine years it has been around, attracting top brewers from not only Alaska, but around the world.
At the Brewfest, festival goers have the opportunity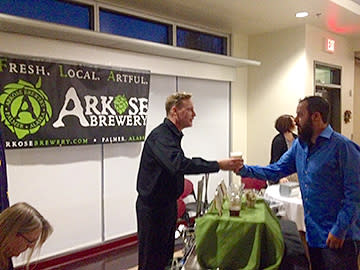 to vote for their favorite libation, and it comes with a big prize - the winning beer will be the official beer of the 2015 Alaska State Fair. Talkeetna's Denali Brewing Company has been on impressive run, taking the top honor three years running.
All three local breweries - Denali Brewing, Arkose Brewery from Palmer and Last Frontier Brewing Company from Wasilla - will be represented at the festival. Last week, Arkose Brewery celebrated its third anniversary and continues to grow. Denali Brewing has been around for several years and has grown into the second-largest brewery in Alaska, trailing only Alaskan Brewing from Juneau.
At the festival, there's also live entertainment on both Friday and Saturday night, as well as food vendors from around the state. Tickets are $30 and include 20 3-ounce tasters. Designated driver tickets are also available for $10, which includes soda.
Come out to Palmer this weekend and see what creativity is being turned out by our local brewers. Please enjoy the festival responsibly, and make sure to have a designated driver for your group. Tickets can be purchased at www.alaskastatefair.org.