Mother's Day is always a special time, but one local organization takes it a step further - the Musk Ox Farm in Palmer uses Mother's Day as a way to celebrate the new arrival of the calves, which are incredibly cute and cuddly. It also kicks off the farm's summer season.
The musk ox are prehistoric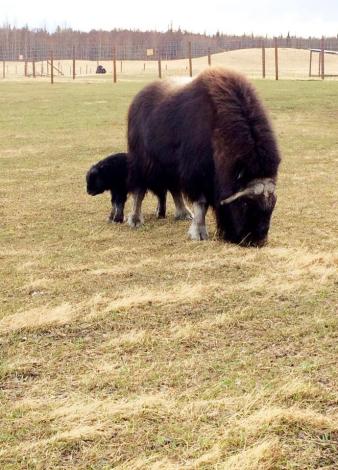 animals that are among the oldest on the face of the earth. They can survive brutally cold winters, and their underwool, qiviut (pronounced kiv-EE-yoot) is one of the rarest fibers in the world, is super fine and has tremendous warmth. It is valued by fiber artists around the world. In Bush Alaska, the fiber is woven into intricate designs for hats, scarves and more.
The Palmer Musk Ox farm's mission is to domesticate these animals over a long period of time, as a way to reintroduce them to rural Alaska, where Native villages can earn money through the sale of qiviut and related garments.
On the Musk Ox Farm, visitors get a chance to see these animals up close and personal, as they tour the various fields of enclosed pens where the animals roam. The farm is believed to be one of the only of its kind, giving visitors a rare experience they can't get anywhere else.
This year's calves started to arrive in late April. Traditionally, the farm opens on Mother's Day to celebrate the new musk ox mothers. The event starts at 10 a.m. at the farm (www.muskoxfarm.org) and is free for all mothers. Others can make a donation to the farm, which is a nonprofit, for admission. There will be live music, a barbecue and plenty of fun for the whole family.
This Sunday, take time to celebrate all the moms - including the four-legged furry ones who call the Palmer Musk Ox Farm home.