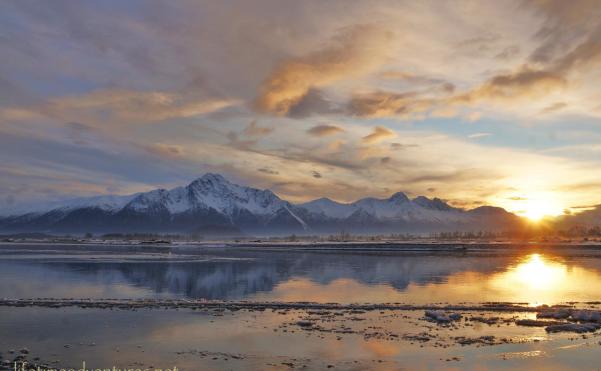 Sun rises over the Chugach Mountains on Dec. 22, 2014. Photo courtesy of www.lifetimeadventures.net.
Christmas feels like it comes a few days early when you live in Alaska. While all of us certainly look forward to Dec. 25 and all of the holiday magic it brings, Dec. 22 is also a gift for everyone who lives here, courtesy of Mother Nature. That's when we started gaining daylight each day.
When Alaskans travel, inevitably we get asked about how our winters are. People are often curious, and just as often, have a wrong stereotype about Alaska's winters. For the record, I don't live in an igloo, and I didn't have to shovel six feet of snow to get out of my driveway today. It's not 50 degrees below zero where I live in Southcentral Alaska. And yes, there are roads where I live. But the darkness? Yeah, you got that one right. It can be dark in the winter, and yes, it's just something we deal with.
We're on the uphill climb now, though, and that makes us Alaskans happy. Today, in fact, we gain more than a minute of daylight. By Jan. 1, we'll be up to two minutes a day being gained. And before you know it, those seconds and those minutes start adding up, and by March, we'll actually have longer days than our friends to the south of us in the Lower 48. By June? Well, that's just plain awesome.
Daylight gains are regular dinner table conversations here - everyone knows we gained exactly six seconds of daylight on Dec. 22, and most can tell you within a few minutes of when the sun is up, when it's going down and how much of a gain that is over yesterday. It's just an Alaska thing I guess.
We try to make the most of our winters here by being active, hosting big community events and festivals and generally not hibernating. It's the best way those long winter nights - I mean, "shortening" winter nights these days!