At this time of the year, it's trendy to come up with a list of New Year's resolutions. Losing weight sounds great, but that leftover holiday fudge is going to make it more like a "February" resolution at this point!
After wiping away the chocolate residue from that fudge, sit down and make your "to do" list for 2013. If you don't live in Alaska, start making plans to visit the Last Frontier this summer. It's a vacation you won't soon forget.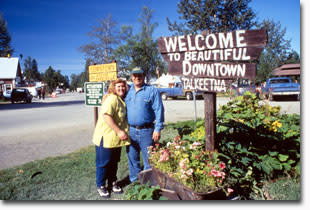 And if you do live here, make it a point to get out and see the hidden gems in your own backyard.
A zippy adventure - If speed is your thing, try Denali Zipline Tours in Talkeetna or MICA Guides in the Matanuska Glacier area. Both have installed new zip lines within the last year, and they both offer high-octane adventure. Also, make sure you trek on Matanuska Glacier - you'll be walking on centuries old ice!
Hit the trail - Whether it be cross-country skiing or backpacking Kesugi Ridge, there are countless trails to explore in the Mat-Su Valley (www.alaskavisit.com/things-to-do/great-outdoors/trail-maps). Bring a tent and a fishing pole and make it a multi-day trek with some angling mixed in!
Soar around McKinley - Flightseeing is one of the most amazing things you'll ever do. Words can't describe the feeling of flying past Mount McKinley, or landing on a glacier in the shadow of Denali, North America's tallest peak at 20,320 feet. Several flightseeing companies depart from the town of Talkeetna daily.
Pamper yourself - Stay at one of the many remote lodges, or a quaint bed and breakfast and feel that stress just ease away. Many offer packages throughout the year, and you'll find your own slice of peace of quiet around every bend in the highway.
Those are just a few things we're planning on doing as we head into the new year. What's on your bucket list for 2013?