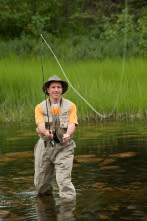 The Mat-Su Valley has a rich history centered on gold. The Willow and Hatcher Pass areas were founded because of the gold found in those communities. Even today, there are active gold claims and visitors can pan for gold.
Gold, however, isn't what most people are in search of in local streams around this time of year. It's silver that is desired most, but it isn't a precious metal - it's a fresh silver salmon fillet that is fantastic on the grill in early August.
Silver salmon, also known as coho salmon, enter the waters of the Mat-Su Valley in late July and continue through the end of August. While not as prized as their Copper River Red counterparts, the silver salmon are a fantastic fish to catch, with amazing fighting abilities, and their meat is prized by locals and visitors alike. The best part about these fish is the accessibility the Mat-Su Valley offers for people to catch them.
The Parks Highway streams all offer opportunities to catch silvers. Willow Creek, Little Willow Creek and Goose Creek are all popular spots. The Willow Creek State Recreation Area in Willow has a nice public campground with easy access to the mouth of the creek, where silvers tend to hole up before beginning their migration up the creek to ultimately spawn. Montana Creek, near Talkeetna Spur Road, is another great option - it's just a short walk from the highway bridge down to the mouth of the creek. Little Willow Creek and Goose Creek can be accessed directly from the Parks Highway, with pullouts giving anglers.
The Little Susitna River and the Deshka River are also very good salmon-producing streams. Your best bet is to hire a knowledgeable guide who knows exactly where those fish are - and they can help you prepare your fillets for shipping home. Farther north, in Talkeetna, you'll find great opportunities to catch silvers. Again, a guide is a good idea.
Along with the silvers, the pink salmon also dominate the waterways this time of year. Pinks aren't a good idea to keep, because they have already begun spawning and their meat is less than desirable. But, when taking a child out fishing with you, pinks can be a barrel of fun because you can catch them with great frequency. That's half the fun of fishing!
Make sure you get out there and wet a line this August. You'll have a ton of fun, and even better, you'll have a tasty dinner waiting for you when you get home.