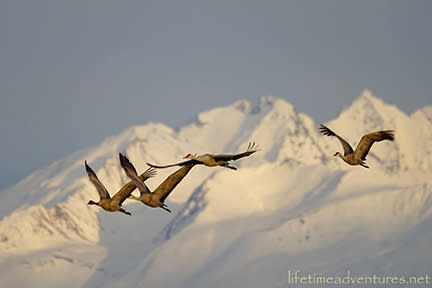 Sand hill cranes arrive in the Mat-Su Valley. Photo courtesy of www.lifetimeadventures.net and Dan McDonough. 
Each spring, here in the Mat-Su Valley we look for signs of summer - snow receding from the mountaintops, grass starting to poke up, pussy willows starting to change into green leaves. But perhaps the most tell-tale sign of all is the return of the sandhill cranes to the azure skies of the Mat-Su Valley.
The Valley is home to countless migratory bird species, giving bird watchers and photographers an entire summer's worth of activity. Cranes started arriving about two weeks ago, a sure sign that summer is not far behind.
You don't have to be an expert bird watcher to get a glimpse of these many migratory birds. The Palmer Hay Flats State Game Refuge is an ideal place to bring your camera and bird checklist, as it attracts a variety of species. An ideal location is Reflection Lake, along the Glenn Highway just north of the Knik River Bridge. This family-friendly area includes a nice walking trail, benches and much more. The Glenn Highway north to Sheep Mountain is also a birder's paradise with opportunities to see a variety of hawk species.
The Valley experienced an unusual winter with low snowfall amounts and warmer temperatures. The result is low water levels currently, which has persuaded swans to stick around longer than normal this spring to feed off the lakes. Lately, we've also seen an abundance of snipes, widgeons, goldeneyes, pintails and many others.
Take an afternoon and visit the Valley - bring your camera, binoculars and a sense of adventure to make your first spring outing just "ducky."