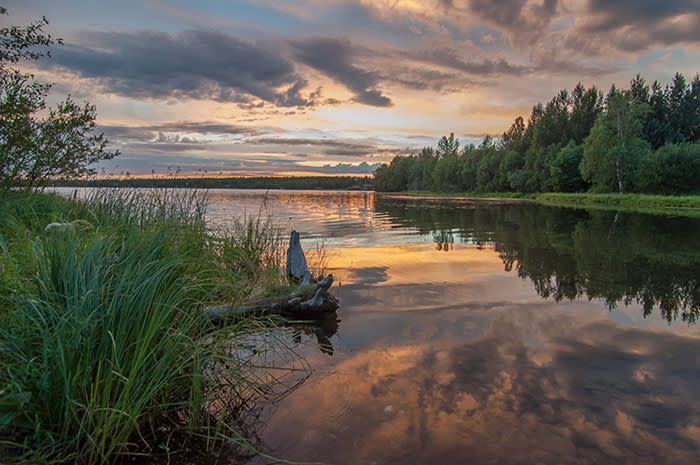 Warmer weather has Alaskans looking forward to summer. Photo courtesy Last Frontier Magazine.
Recently, we have been teased with 40-50 degree temperatures, turning many thoughts to spring and making upcoming summer plans. But as a lifelong Alaskan, my excitement remains a bit muted, because I've seen this before, and you don't want to set yourself up for disappointment when it drops down to 20 degrees and dumps a foot of snow in late April.
Still, it's a time for optimism. The other day, I swear I could "smell" spring coming in the air. The notorious Palmer winds had a different feel to them, almost like a new season was being blown into the Valley. Already, you can see the season beginning just by logging into Facebook - friends are climbing the Butte, hiking at Crevasse Moraine trails and mountain biking along the Matanuska Lakes trail. Even the time stamps of those posts tell a story - daylight remaining until the early evening rather than the late afternoon.
For me, spring and ultimately summer begins when the lakes and creeks open. Each year, I jump the gun a little bit by inflating my raft and dusting off my fishing rods and fly boxes, getting ready for another year spent fishing and camping along the streams of the Mat-Su Valley. And each year, I have about a four-week wait from that time to the time I can actually get out and enjoy those activities. But really, the anticipation is all part of the experience. It's much like taking a vacation - the anticipation and packing is one part of the experience, while the memories are another important part.
This winter has been far from normal - unseasonably warm, no snow, rain on some days, and just not what Alaskan expect. But it was still winter, and many of our favorite activities are put on the shelves for seven or eight months. I embrace winter, but there's no doubt that I, like many Alaskans, are ready for the summer to get here, and all the fun and exploring it brings with it.