Catching a salmon ranks high on the list for visitors, and as residents, we sometimes takes this opportunity for granted. There's nothing better than a fresh salmon fillet on the grill - well,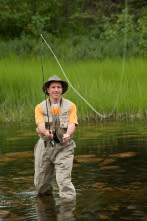 maybe catching it in the first place! Whether it be a feisty king salmon or a fighting silver salmon, there's ample opportunities to get out and explore the waters of the Mat-Su Valley.
   This year, the Little Susitna River closes to salmon fishing on August 10, but that doesn't mean fishing season is over. The Parks Highway, heading north out of Wasilla, offers exceptional fishing with roadside access. Willow Creek has a great state parks campground where you can make "basecamp" for your fishing adventure. Willow Creek, Little Willow Creek, Montana Creek and Goose Creek all criss-cross the Parks Highway and have strong runs of pinks, chums and silver salmon during this time of year. All you need is a fishing license, some basic gear and an appetite for adventure. Park along the highway at the roadside pullouts, and wet your line.
   For those not interested in doing it themselves, there are several guides who will make sure you return home with fish in your cooler. Search this site for an guides who cater to anglers in these waters. They're the experts, and it won't take long until you are fighting your first fish!
   Don't forget about those beautiful rainbow trout, too!
Weekend winners
   Come meet Gov. Sean Parnell and his family at the Mat-Su Governor's Family Picnic at 4 p.m. Friday, Aug. 10 at Raven Hall on the Alaska State Fairgrounds. This free barbecue is your chance to shake hands with Alaska's leaders.
   Art enthusiasts won't want to miss a free photography exhibit at Espresso Cafe (1265 Seward Meridian Parkway) on Saturday, Aug. 11 from 1-3 p.m.