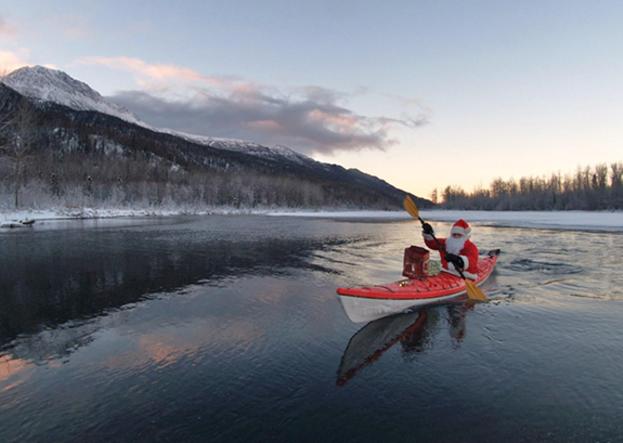 The photos popped up on Facebook and immediately were shared around the world. Nothing gets people more excited in mid-December than Santa sightings. And to have the jolly old fella spotted here in the Mat-Su Valley, on more than one occasion? That's just awesome!
In case you missed it, our friends over at Lifetime Adventures got a glimpse of Santa heading out for a delivery last week. But instead of reindeer pulling him through the sky, Santa took to the water of Eklutna Tailrace off the Old Glenn Highway near Palmer in a kayak. Yes, a kayak, during the dead of winter in Alaska. See, a power plant there keeps the water warm enough to stay ice-free throughout the winter months, and Santa took advantage by plopping his kayak into the tepid water and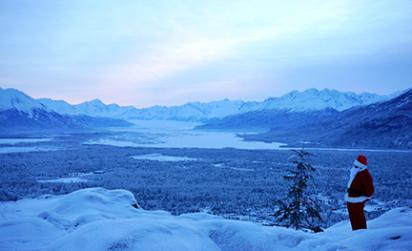 getting some paddling work in, to prepare for his big night coming up next week. Eklutna Tailrace is a popular salmon fishing spot in the spring and summer, but as far as we can tell, it's not a hot spot for kayaking in December - unless Santa starts a popular trend.
Then, just this week, Santa was spotted hiking the Butte, looking for a Christmas tree he suitable for his larger than life personality. He found more than just a tree, however - he discovered breathtaking views of the Matanuska Valley from the top of the Butte. With spectacular vistas of Pioneer Peak and the Chugach Range, Santa found out what many locals already knew - the Butte is one place you don't want to miss, regardless of season, because the hiking, skiing or even the snowshoeing is amazing.
We're going to keep our eyes peeled to see if we spot Santa at any more Mat-Su Valley hot spots. Until then, we'll wish you all a very safe and Merry Christmas, and a Happy New Year!