Denali Country (includes Talkeetna)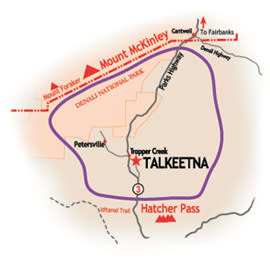 Denali - formerly known as Mt. McKinley - looms large, dominating this region that is a must-see for any visitor to Alaska. The Alaska Range provides a host of recreational opportunities, from rafting to flightseeing. Many backcountry lodges can be found in Denali Country.
Talkeetna is the largest town in Denali Country, and has great views of the famous mountain. It is a hub of activity and is the base camp for climbers starting their ascent of the mountain. See this famous mountain in Denali Country - on the road, by air and even on the water. If you are looking for Denali day trip ideas, learn more about how to make the most of your Denali experience by visiting the communities of Willow, Talkeetna, Trapper Creek and Denali State Park.