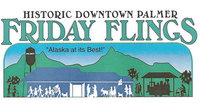 While today is the start of the Memorial Day weekend, it's also the start of a entire summer filled with food, fun and festivities as Friday Flings kicks off for the first time of the year.
Each Friday, the downtown area turns into a makeshift farmer's market, food court and music venue, as Friday Flings has something for everyone. This Friday is the first event, but you can't go wrong by stopping in on any Friday - there's plenty of food vendors, making it a great lunch stop; there's lots of local arts and crafts for your shopping needs; and later in the summer, some of Palmer's world-famous crops can be purchased.e Memorial Day weekend, it's also the kickoff to a summer's worth of food, festivities and fun, as Friday Flings takes over the downtown Palmer area for the first time.
Friday Flings is a great way to shop local and support the local economy. Almost all of the things you'll encounter at the weekly festival are Alaska Grown or Alaskan made products, and help local farmers, artists and more. For example, today you can stop by Midnight Sun Farms' booth at Friday Flings and find raspberry cane starts, Alaska-grown jams and jellies and raw local honey products. The Sweetie Pie Girls are going to be there (and not again until June 26) serving up their incredibly sweet and delicious homemade stuffed pies. The strawberry rhubarb is a personal favorite.
Downtown Palmer is always a fun visit, as its very walkable with many locally owned shops, eateries and coffeehouses. Friday Flings only enhances Palmer's charm. Don't wait until the Alaska State Fair to come to downtown Palmer - Friday Flings is a perfect reason to visit.